My Favorite 6 Outdoor Concert Venues in Wisconsin
Being blessed with an abundance of green space, Wisconsin seems to be heaven on Earth. If you add light music to the equation, you will make things even better. Fortunately, the state has plenty of small squares and large parks that serve as awesome outdoor areas to enjoy concerts in Wisconsin. Here are the 6 best outdoor concert venues where you can relax and let the warm weather wash over you.
1. Somerset Amphitheater - Somerset, WI
Img source: The Untz
Somerset Amphitheater is considered to be the largest outdoor amphitheater in the Western Wisconsin region. It was initially established as a summer hub for music, camping, and tubing for holidaymakers from Minnesota and Wisconsin. With a seating capacity of 30,000, Somerset Amphitheater now hosts festivals, sporting events, corporate parties, and charity events. The camping area nearby has enough space for 15,000 campers who can have a great time in the evening or during the lunch hour.
Address: 495 Main St, Somerset, WI 54025 (Directions)
Phone: +1 715-247-2004
Somerset Amphitheater Reviews:
2. Alpine Valley Music Theatre - East Troy, WI
Img source: TMJ4
Located in the gorgeous greenery of East Troy, Alpine Valley Music Theatre serves as one of the state's major venues for live music. It was rated as number 6 on Rolling Stone's list of "The Best Amphitheaters in America". No wonder that it has become a popular place to organize a picnic with friends and family and enjoy some live music. The seating capacity of 37,000 is spread under the pavilion and on the lawn. Depending on the type of event and weather conditions, visitors can choose a suitable place.
Address: 2699 Co Rd D, East Troy, WI 53120 (Directions)
Phone: +1 262-642-4400
Alpine Valley Music Theatre Reviews:
Alpine Valley Music Theater Concert Tickets
3. Big Top Chautauqua - Bayfield, WI
Img source: Bayfield County
Big Top Chautauqua is a music venue that has been available for visitors since 1986. Today, it is widely recognized for its blue canvas tent that is set up annually at the base of Mount Ashwabay Ski Hill. With a 900-seat capacity, the venue hosted local and regional entertainers such as Willie Nelson and Lyle Lovett. This way, Big Top Chautauqua takes part in the popularization of musical and theatrical culture in society. So, if you're looking for a place to enjoy some live performances under the sky, make sure to check the Big Top Chautauqua's program.
Address: 32525 Ski Hill Rd, Bayfield, WI 54814 (Directions)
Phone: +1 715-373-5552
Big Top Chautauqua Reviews:
4. Music by the Lake (The Ferro Pavilion) - Williams Bay, WI
Img source: Experience Wisconsin Mag
Music by the Lake aims to reveal the transformative potential of arts to people of all ages. The Ferro Pavilion surrounded by breath-taking nature offers a comforting atmosphere for live performances of singers, comedians, and entertainers. There are 650 seats under cover and 500 on the Terrace, which minimizes the chances of overcrowding. If you consider having a journey of sight and sound on Wisconsin's Geneva Lake or enjoying musical and theatrical events, Music by the Lake happens to be a great option for escape.
Address: 350 Constance Blvd, Williams Bay, WI 53191 (Directions)
Phone: +1 262-245-8501
Music by the Lake Reviews:
5. Leach Amphitheater - Oshkosh, WI
Img source: fdlreporter
Leach Amphitheater is conveniently located at Riverside Park, not far from the Oshkosh Convention Center. It happens to be an excellent venue for community festivals, live concerts of all types, company events, and large-scale sporting arrangements. A large performance stage is located in front of 7,500 seats split into two rows. There are also places on the lawn, which can be taken by large families and young people.
Address: 303 Ceape Ave, Oshkosh, WI 54901 (Directions)
Phone: +1 920-236-5080
Leach Amphitheater Reviews:
6. Washington Park Bandshell - Milwaukee, WI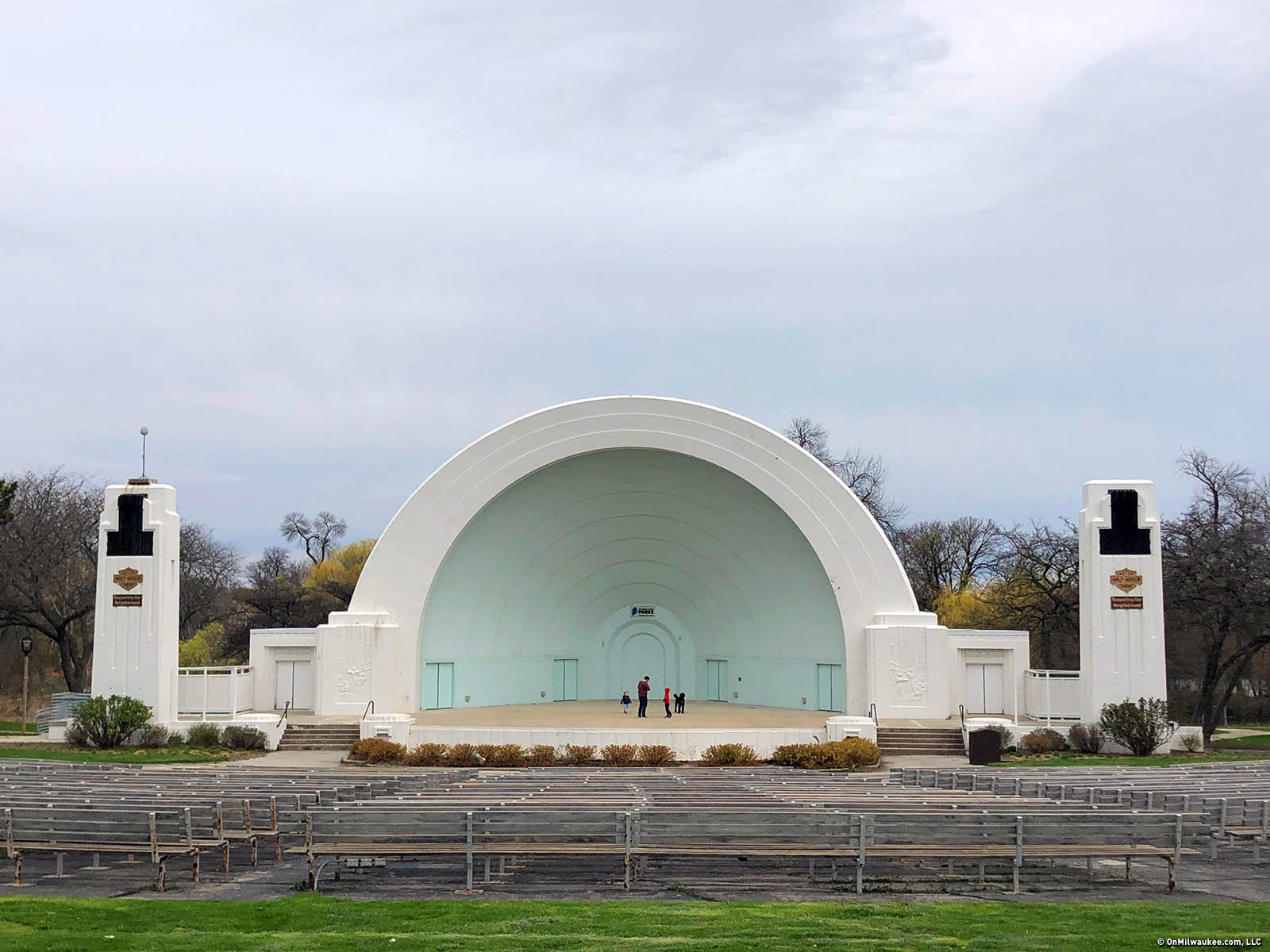 Img source: OnMilwaukee
Washington Park Bandshell is the local alternative to New York's Central Park. The bandshell was established in 1938 as a gift from brewer Emil Blatz. In summer, 8,500 people can enjoy the performances of local artists here. In fact, Washington Park Bandshell is considered to be one of the most spectacular venues for concerts in Milwaukee.
Address: 4599 W Lloyd St, Milwaukee, WI 53208 (Directions)
Phone: +1 414-342-0215
Washington Park Bandshell Reviews: